Make Your Orange County Laundry Room More Functional and Stylish with Our
Top Tips, From Yorba Linda to Dana Point!
Gone are the days of lugging your laundry from your bedroom on the second floor down to the basement… Laundry rooms are literally moving up in the world!
Throughout the last 30 years, our lives have gotten more chaotic and the homes have evolved to meet the pressing needs of working professionals and busy families. Whether you live in Yorba Linda or Tustin, Dana Point or Newport Beach, kitchens and bathroom designs are no longer solely functional – they're also intended for luxury, entertainment, and convenience. Why should your laundry room be any different?
Let's be honest… the whole laundry process is completely inconvenient. Why not create an environment where you can wash, dry, iron, fold, hang, and stay organized all in on space. But, before you start plotting out the laundry room design of the century, take a look at these tips:
Carefully Consider the Location
Historically, laundry rooms have been relegated to the basement… it's out of the way, keeping humidity and noise from affecting your daily life. But, you may prefer to have yours on the second floor, so you don't have to carry ten loads a week up and down two flights of stairs. If you decide to put your laundry room near high traffic areas or bedrooms, consider purchasing appliances that guarantee quiet operation and minimal vibration. Or, you may opt for a laundry/utility room located on the first floor adjacent to the kitchen or a mudroom.
Choose Your Materials Wisely
Remember to choose materials that will hold up against heat, humidity, and water. A rule of thumb to follow is any materials that make sense in the bathroom will also work for a laundry room. Laminate, stone, and quartz countertops are easy to clean and won't snag more delicate fabrics. Tile floors will mop up easily and won't be damaged by bleach.
Install a Laundry Sink
Laundry sinks are the perfect place to soak stained items, hand wash delicate fabrics or pre-soak clothes, not to mention a good place to wash muddy or greasy hands, paint brushes… the list goes on. Be sure to choose a stain resistant material and opt for an extra deep sink-bowl.
Zone the Space
Set up wet and dry zones to make your space the most efficient. Place the sink and washing machine next to each other. If you have the space, include a drying rack next to the dryer for items that need to be air dried. Consider installing an ironing board or at least allow storage space for your iron and ironing board and include a clothing rod to keep all your nice clothes wrinkle free.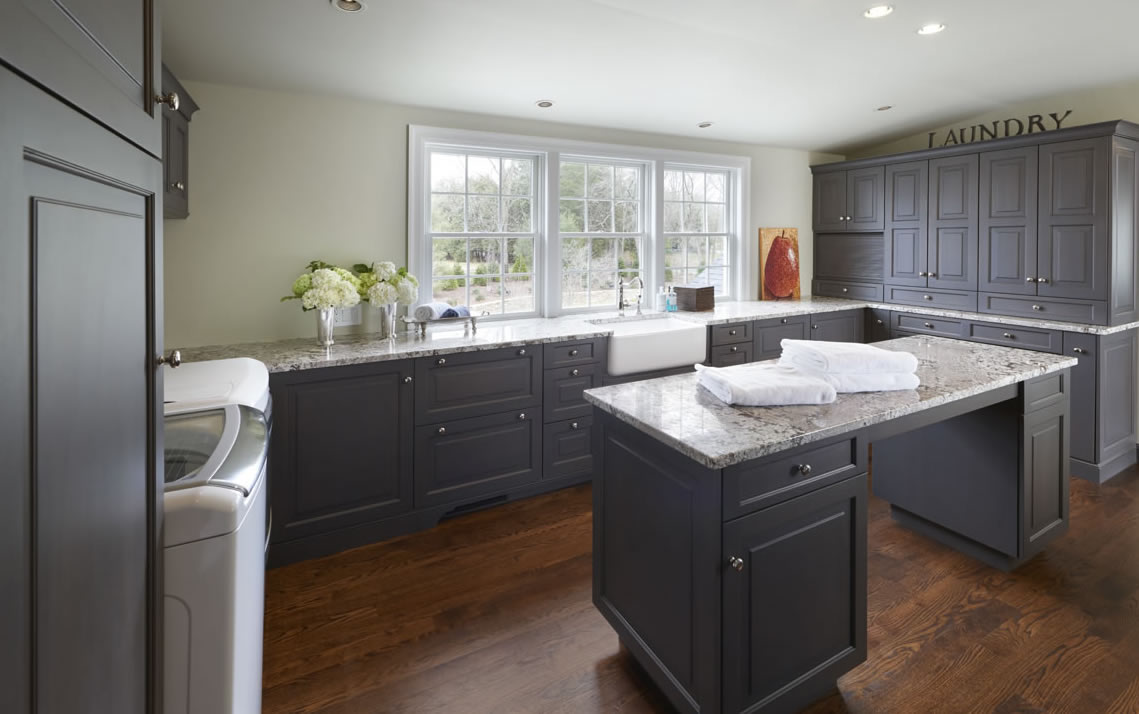 Don't Neglect the Lighting
It's essential to have good lighting in work areas and the laundry room is no different. Install LED lights under the countertop or cabinets to brighten your work space – making it easy to match socks or check clothing for stains! Recessed lighting and natural light from windows are also ideal light sources for a laundry room.
Maximize Storage
Every homeowner always wishes for more storage. In addition to stain treatments and detergents, the laundry room is a great place to store household goods, cleaning products or bulk items. Consider open shelving to house items you use more frequently. Use baskets to keep things accessible and uncluttered.
Use Every Inch of Space Available
Not everyone can afford to build a grand laundry room with a sink or designated folding and hanging areas. Perhaps, you're turning a second closet into a laundry room. Think vertically. Use stackable machines to make the most of the space or consider hanging shelves above the units for storage.
There are many ways to create a laundry room design that is practical and stylish, and that will make your laundry day a more pleasant experience. Check out more home design ideas in our website galleries or contact us on (714) 939-6227 to get started on your customized design today.