Kitchens are the hub of the home, and as such bear the brunt of a home's mess. Everything happens in the kitchen from washing hands to storing food, from cleaning and preparing food to cooking and entertaining. When planning a kitchen design to stand up to these requirements, you may focus on kitchen cabinets, countertops, backsplash, or floor.
What about the kitchen sink? The sink is the unsung hero of an effective kitchen design, as the focal point for much activity. You wash everything from messy hands to food in the kitchen sink. Pots are filled with water to create culinary masterpieces, and dishes get rinsed after dinner on their way to the dishwasher. The sink is your multi-tasking powerhouse that must stand up to all this activity, while still being easy to clean and enhancing your kitchen design style.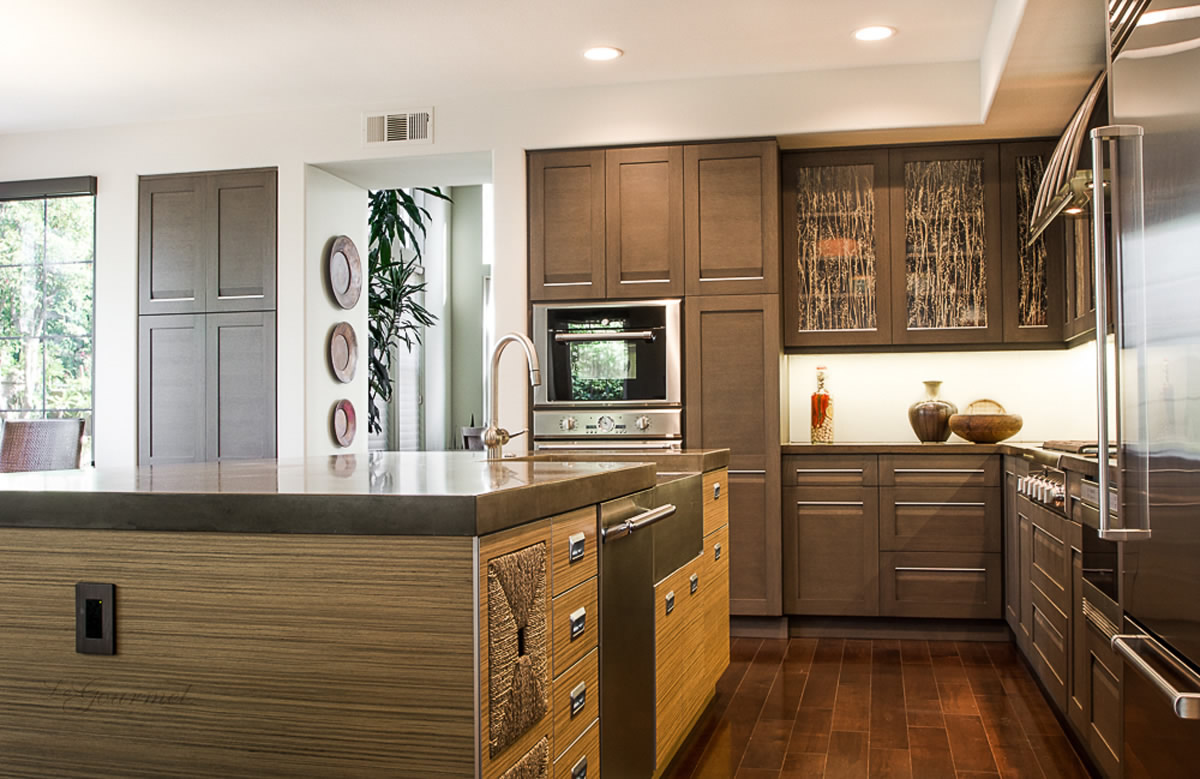 How do you select the right kitchen sink for your next Orange County kitchen remodel?
First, pick your sink style:
Self-rimmed or ­drop-in sinks are a flush-mount style with a rimmed edge. They drop into a hole in the countertop, are generally less expensive, and easy to install with caulked edges. Cleaning those edges can be difficult, and any liquid or mess created on the countertop surrounding the sink may get trapped rather than being easily wiped away into the sink.
Undermount sinks attach underneath the countertop. This is a popular choice as it gives a sleek appearance and is easier to clean, but it generally is only compatible with solid surface or stone countertops.
Integral sinks are made from a solid material integrated with the countertop, which gives this style a sleek, modern look with no seams. The downside of this is any damage done to the sink means the entire area (sink and countertop) must be replaced.
Farmhouse or apron front sinks are typically associated with vintage style farmhouse kitchen designs. Today's farmhouse sinks come in an array of materials that work with the most traditional or modern designs. They tend to be large, deep sinks, and so are ideal for high-volume traffic and cleaning large pots.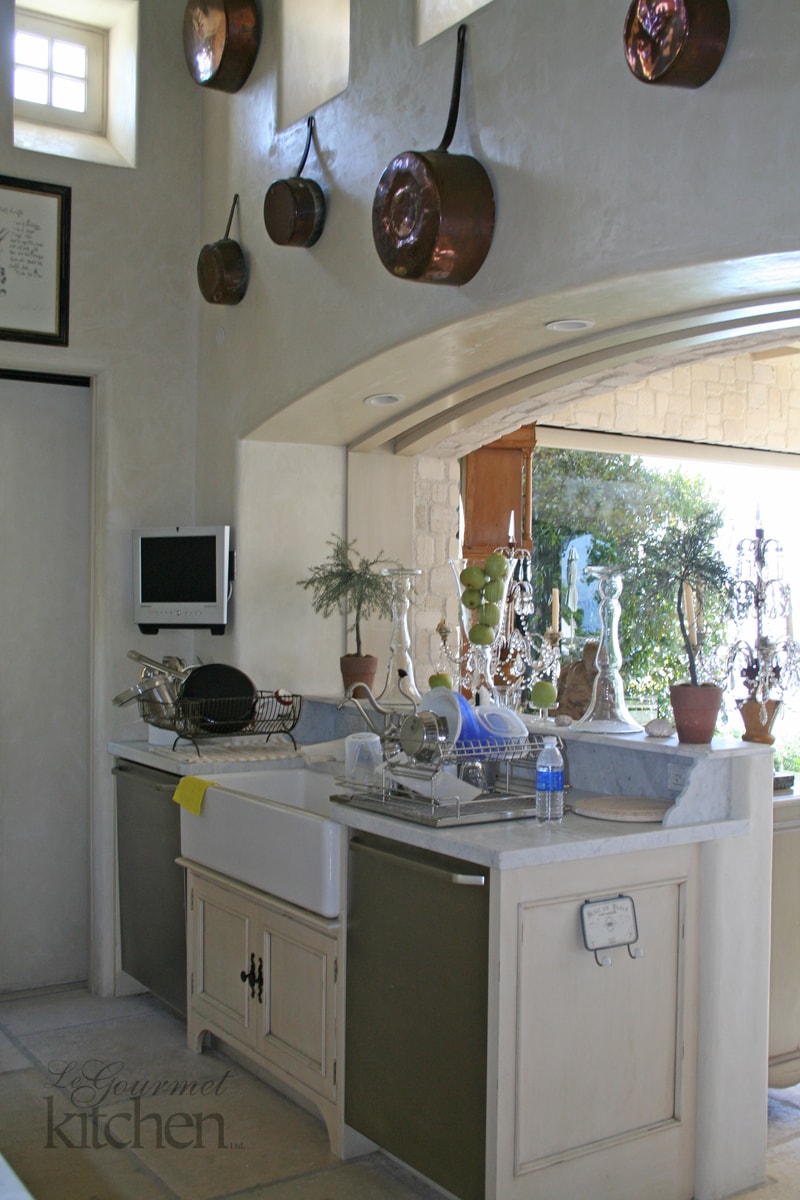 After you have selected the best sink for your kitchen design, consider which material fits your practical and style requirements.
Stainless steel is a popular choice because it suits traditional to contemporary styles, is easy to maintain, and durable. Make sure you select a non-abrasive cleaner as it can be prone to scratching.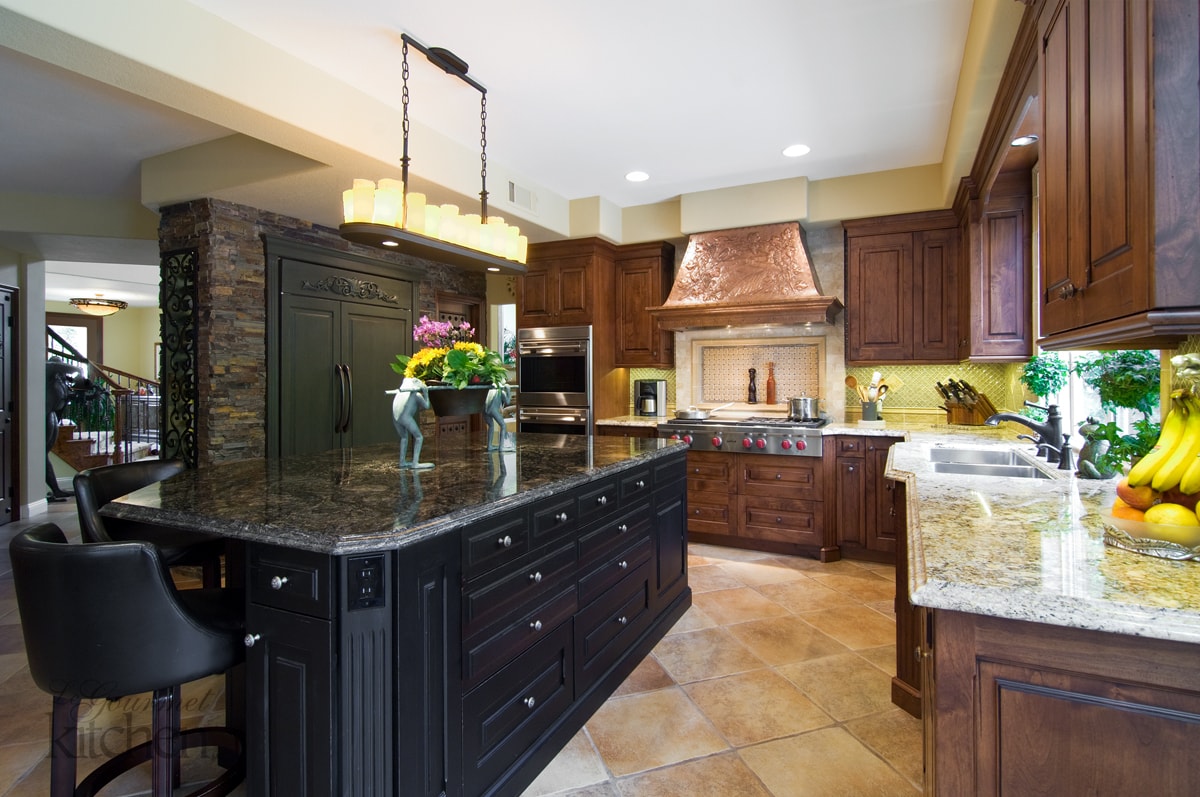 Cast-iron sinks are constructed with a highly durable enamel finish, available in a range of colors. They are easy to clean and long-lasting but are very heavy which can make installation difficult.
Composite is a mixture of natural and man-made materials that can be shaped and carved. They usually incorporate quartz or granite, are durable and stain resistant, and offer the look of natural stone at a slightly lower price.
Fireclay is made by molding and drying ceramic clay, and then applying porcelain enamel. This stylish material has grown in popularity, but it tends to be more expensive and can be more prone to cracking than other materials.
Metals, like copper sinks, age well and make a bold style statement in any kitchen design. They require careful ongoing maintenance to keep their shiny finish.
Solid stone, such as marble, is a beautiful, classic material, but they are more prone to stains, which is difficult to avoid in a busy kitchen design.
Bamboo and concrete offer environmentally friendly and stylish alternatives to standard sink materials.
What else do you need to decide when selecting a sink for your Orange County kitchen remodel?
What size and how many sinks:
Kitchen sinks are available in single, double, or even triple-bowl options. While divided sinks can help with multi-tasking in a busy kitchen, the individual bowls tend to be smaller.
If you have enough space in your kitchen design include more than one sink allowing multiple tasks to be carried out by different people in distinct work zones.
Deep bowl or oversized sinks are ideal if space allows as they make it easier to handle high volume cooking and large pots. Make sure your kitchen can accommodate one, so you don't lose valuable countertop and kitchen cabinet storage space.
What other features do you want to include:
Add-ons turn your kitchen sink from a place to rinse dishes to a full-fledged work station.
Some sinks come with integrated accessories like cutting boards and colanders.
Pick the perfect faucet to complement your sink style and consider including a pull-down sprayer faucet for your main sink.
A hands-free faucet or pedal control valve is the ideal add-on to make sure you can wash food and hands without spreading germs.
Finally, pay attention to where you position your kitchen sink as you tend to spend a lot of time standing at it. Do you want to face out a window? Or stand at the island facing out into a living area?
Are you still not sure which kitchen sink style is right for you? Our website has a selection of styles to browse and a visit to our Orange, CA kitchen design showroom to talk to one of our experts will help you make the perfect choice.