People who love to cook know that a kitchen design is more than just a place to store food and cook meals. It is the center of your Orange County home, and the place where you go to be creative. It is the focal point of family life, and where guests congregate for parties (how could they not when they smell the delightful treats you are whipping up in the kitchen). It is an inviting space that perfectly combines the practical
elements essential to a well-planned kitchen remodel with the intangible elements that make it your favorite room in the home.
Even professional chefs will tell you that your home kitchen design does not need to be expansive, but it must include a thoughtful design with an effective layout and workflow, style features that fit your personality and your home, and the right appliances for your needs. Working with an experienced kitchen design professional will help you create the perfect room to support your passion as an amateur chef, where you will create lifelong memories, all within your preferred budget and style.
Start by reading our tips for creating an Orange county kitchen design that is ideal for people who love to cook, browse our kitchen remodeling style gallery, and then contact us to get started.
Find your perfect kitchen design layout.
Just like real estate experts will tell you "location, location, location" is of utmost importance when choosing a home, in kitchen remodeling the layout and workflow are top priority. They are the foundation for everything else in your kitchen design and determine how effectively your kitchen functions. Your kitchen layout will be based on the space available, your individual needs, and your budget. Layout is formed around "work zones" designed to best accommodate food storage, cooking, and clean up and your ability to smoothly move among these areas. For the avid chef, consider having two food prep areas, or, if baking is your real passion, include a separate baking zone with a section of marble countertop for rolling out pastry and a stand mixer lift.
Have ample and well-positioned storage and workspace.
If you love to cook, you are probably also very particular about your cooking tools. Make sure you have ample kitchen cabinet storage with customized storage accessories to fit every pot, pan, cooking utensil, and small appliance you need to make your favorite meals. Include storage where you need it, with spice and oil pull outs near the range and ovens, knives and chopping boards where you prepare vegetables and meat, and cleaning supplies close to the sink. Make sure you store items used together frequently in the same place. Work with your kitchen remodeling specialist to identify the key items you need to include in your storage plan.
Consider where you will store items you only use infrequently, like supplies for Thanksgiving dinner or an ice cream maker. In a very large kitchen design you may have space for everything, but if not store these items in the basement and include a section of cabinet storage where you can rotate seasonal items. Think ergonomically too, as you don't want to ruin your back lifting heavy items. A mixer lift, appliance garage, and pull out shelves and drawers located at just the right height means you can easily access items without straining your back.
Like storage, work space, such as countertops and sinks, must be carefully planned out in a kitchen designed for cooking. With well-planned storage, every item in your kitchen should have a home, enabling you to keep countertops clear and ready for food preparation. Think also about the material you choose for your countertop, as some are more durable and stain resistant, while others are more heat resistant, and still others are better for preparing items like pastry. In a busy chef's kitchen, you may decide to include more than one countertop material to fit different requirements.
Make sure your sinks and faucets will keep up with your cooking and clean up requirements too. An undermount sink is best and try to get the biggest sink bowl you can to allow for large pots and easier clean up. Go for a single handle lever faucet to make it easier to turn on and off and include a pull-down sprayer to help with washing vegetables and pots. Include a pot filler at the stove, so you don't have to carry heavy pots of water.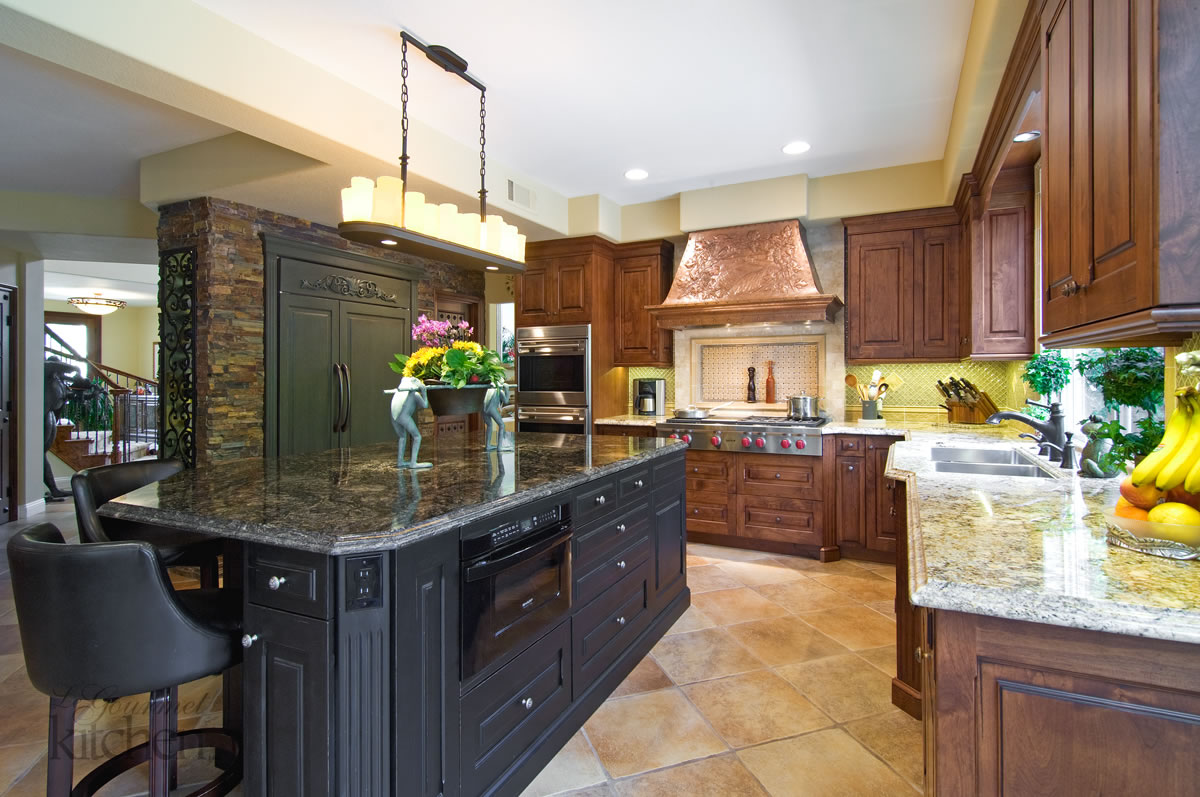 Get the appliances you need, where you need them.
You may assume that your passion for cooking requires the biggest, best, and most expensive appliances, but this is not necessarily the case. Defining your requirements carefully will help you determine the right choices for your kitchen design. What type of cooking or baking do you typically do? How many people will be cooking and how often? Do you cook for a large family or entertain frequently? How often do you shop for fresh food, as some home chefs prefer to shop more frequently?
A busy chef's kitchen will typically include more than one oven, a high-quality range and hood, a well-positioned dishwasher (or possibly more than one to handle the high volume of dirty dishes you produce), refrigerator (perhaps with a separate beverage refrigerator and ice maker), and other specialized appliances to meet your individual needs. Discuss your requirements when planning your kitchen design, shop around to find the right options for you, and make sure you check that your large pots and bakeware will fit in your chosen appliance range.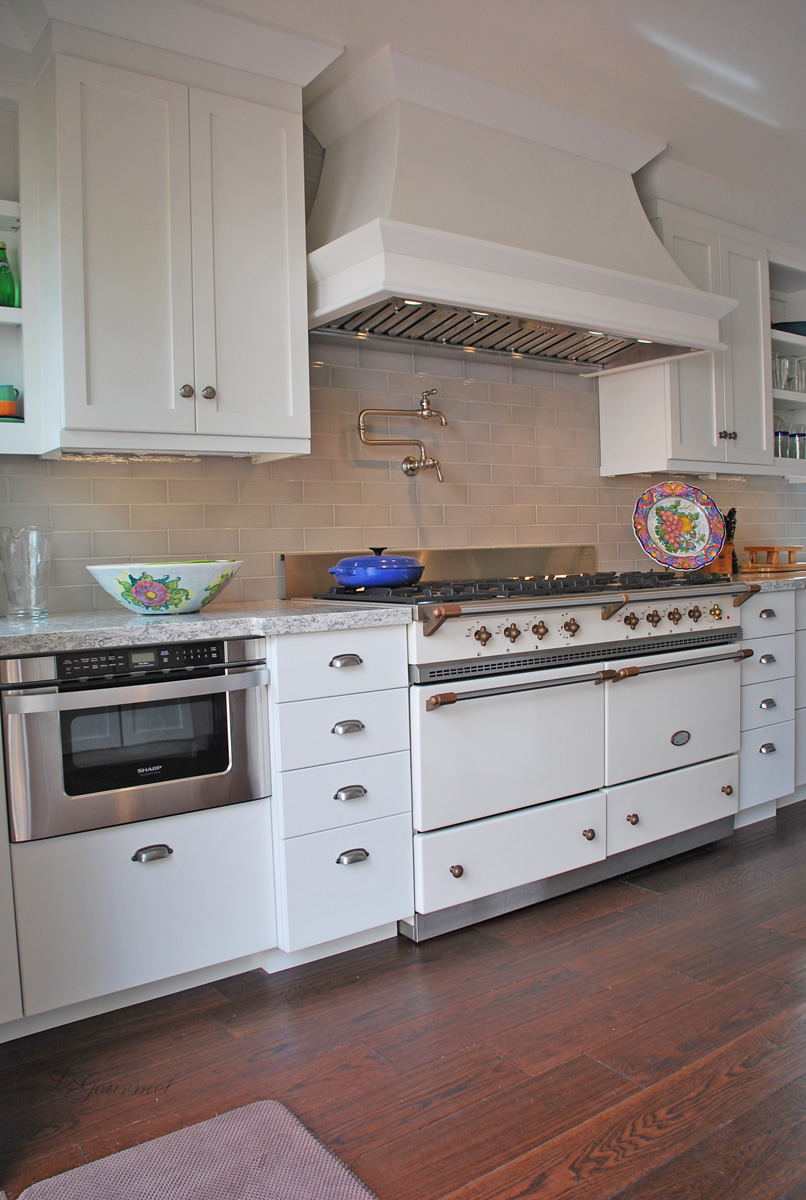 If your current design is not keeping up with your needs as a home chef, you may be ready for a kitchen remodel! Visit our kitchen design gallery to get inspired and then contact us to get started.