They are one of the first things you notice in any kitchen, as they top off your kitchen cabinets and stretch from one end of the room to the other. Countertops are also expected to be one of the hardest working materials in your kitchen design, as they must withstand a daily onslaught of sharp objects, liquids, hot temperatures, dirt, grease, and cleaning products. All the while, we expect them to be durable, attractive, and to look good as new for years.
Thankfully, there are a wide range of materials available for countertops to meet the needs of any kitchen design, whether you cook once a month or several times a day, prefer a traditional or contemporary style, and for almost any kitchen remodeling budget. What must you consider before picking a kitchen countertop material?
There are several questions you must ask yourself, and an experienced kitchen design professional will help you through this process. Here are 5 key questions to get you started:
How often do you cook? Are you an avid home chef, frequently found in the kitchen whipping up your favorite dishes and creating some brand-new ones? Or perhaps you have a busy household with multiple meals on the go every day for family and friends. How frequently you use your kitchen will influence what type of countertop best meets your needs.
Are you an avid baker? If you also bake frequently, you may want to reserve a section of countertop workspace for your baking needs, and your countertop requirements for this section might differ.
Do you entertain frequently? We all know every party ends up in the kitchen. If you entertain often you want your kitchen countertop to not only make a design statement, but to be up to the task of hot appetizers, glasses of wine, and coffee cups.
How long do you plan to stay in your home? As with any kitchen remodeling product selections, your choice of countertop material may vary if you are planning to stay long term in your home versus if you are updating your Orange County kitchen design to facilitate resale.
What is your budget? As the saying goes, you get what you pay for, so longer lasting, attractive countertops will cost you more than budget options. If your budget is more limited, there may be multiple options that sufficiently meet your needs, allowing you to select the one that fits your budget constraints. Or, you can decide to mix countertop materials, with a more expensive option reserved for one section of your kitchen countertop.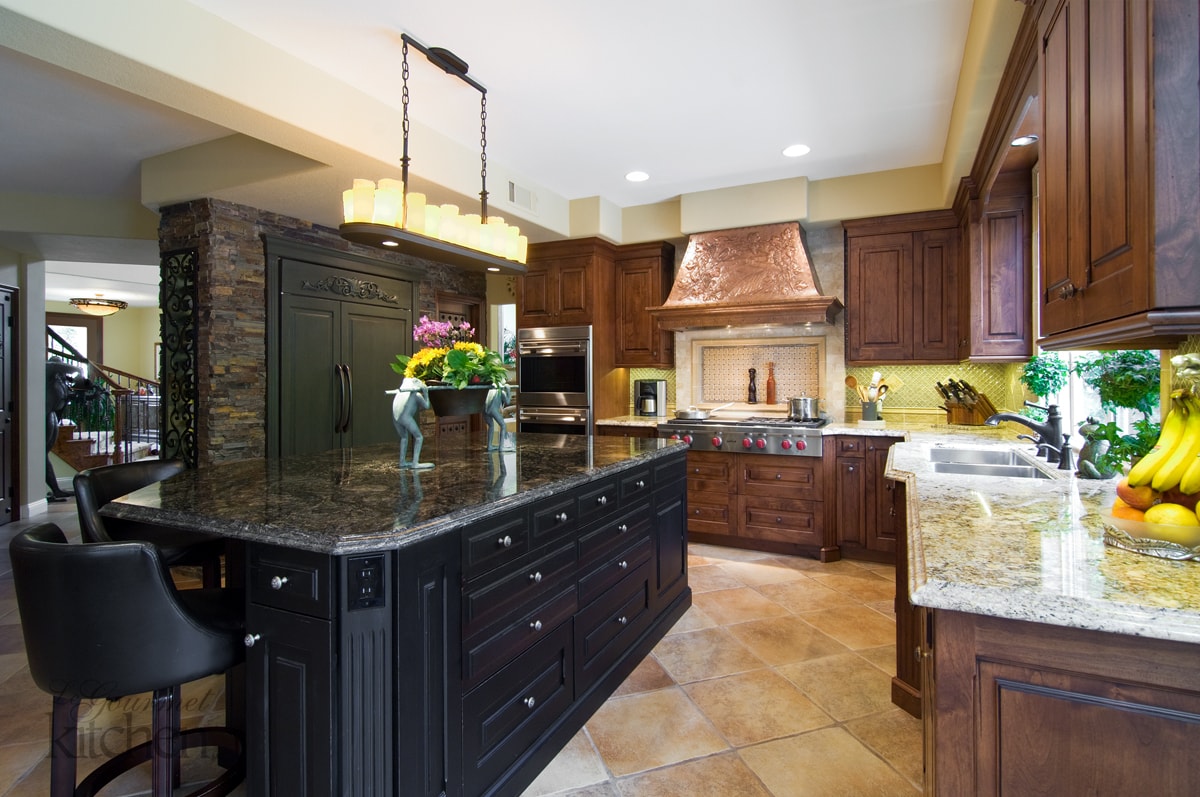 Once you have determined your requirements, you can start to examine which countertop material best fits your kitchen renovation project. Here are some of the top options available:
Granite has long been a popular choice for kitchen design countertops due to its heat resistant and durable qualities, as well as the unique beauty associated with each individual piece of granite. This natural stone is relatively low maintenance and can be individualized by cutting it into different shapes.
Marble is not as practical a product choice, as it is a softer material that is more subject to stains, chips, and scratches. However, it is still a popular option due to its classic beauty and is particularly useful for baking as it maintains a cool surface handy for handling dough.
Engineered Quartz has rapidly become one of the top choices for countertops. It is an engineered material that combines quartz dust with a binder, which makes it easy to manufacture and shape, extremely hard-wearing, non-porous and highly stain and germ-resistant, and easy to clean. It offers a range of options for color, pattern, and texture, from natural-looking surfaces to sleek, colorful designs.
Wood is a very attractive option that is also great in the form of butcher block for food preparation or in a polished wood "tabletop" for dining. You might decide to transform one section of your countertop into a wood-topped dining zone or install one area with butcher block for chopping vegetables and other food prep.
Solid Surface is make from a solid synthetic material, often designed to look like more expensive surfaces. They suit almost any style kitchen design and are non-porous and easy to clean. They can be scratched, unlike some other surfaces.
Stainless Steel offers the opportunity to create a professional style kitchen with a work surface that is dependable, durable, and very easy to clean. Style-wise, while stainless lacks the warmth of other surface materials, it blends well with most other kitchen materials and will match your appliances if you opt for stainless steel.
Other options include plastic laminates, which is available in a wide range of colors, with newer laminates more durable, though still sensitive to heat and scratches. Tile has a versatile appeal with the range of colors, sizes, and patterns, and is very durable but requires re-sealing the grout lines. Concrete countertops have grown in popularity, and there are other more environmentally friendly options that incorporate recycled glass and other sustainable materials.
Contact us if you want to learn more about countertops, or if you want to get started on your Orange County kitchen design. Get inspired by our kitchen remodeling projects and we will help you find the perfect countertop style for your home.