Storage solutions for your kitchen design in Orange County from Mission Viejo to Yorba Linda.
Any kitchen, and cook, will always benefit from a well-organized pantry. Whether you have space for a walk-in or integrated pantry, both are effective at storing food and kitchen supplies and reducing clutter in your kitchen design. Making the most of available storage lets you find what you need easily and helps you keep every inch of your kitchen looking neat and attractive.
EXAMINE YOUR OPTIONS
A pantry can be as large or small as you like but whether it's a cupboard or a separate room it needs to be well ventilated with as little natural light as possible. Shelving is key and can transform everywhere from an underutilized closet or hallway to a spare wall nook into a state-of-the-art pantry. Adding bi-folding doors or a sliding barn door to a narrow pantry space will keep everything covered, while maintaining a sleek appearance. Pantry storage can also be integrated into your main kitchen cabinet storage like this kitchen design in Yorba Linda.
SHELVES AND DRAWERS
Pantry storage can easily become very disorganized, particularly because a busy kitchen design must house a wide variety of ingredients and tools of varying shapes and sizes. Adjustable shelving is ideal as it caters for items of all heights. Pull out drawers and roll out shelves transform your pantry storage, making items at the back easy to access. Cans easily fit into a pull-out drawer or narrow pull-out storage inserts so you can see exactly what you have. Wire shelving on the back of your pantry door gives more handy storage options as you make the most of every inch available. In a large pantry like this kitchen design in Newport Beach, a combination of storage options keeps everything organized and stylish!
TRAY DIVIDERS
When designing your pantry, be sure to factor in tray dividers to keep everything from cookie sheets to platters and cutting boards in line. This can easily be added to a pantry room or included in your main kitchen cabinets in a lower cabinet or over the refrigerator.
CONTAINERS
Spices and other dry ingredients last much longer stored in airtight containers away from light. There are all kinds of spice racks available, from spinning to extendable to pull out, with narrow racks or shelves designed to accommodate small spice jars. Keep dry edibles in glass or plastic containers to see how much you have left. Add a label with the expiry date or cooking instructions and keep them away from bright light and heat.
LARGE ITEMS
A spacious pantry is perfect for storing large appliances, which helps to free up your kitchen counter space like this kitchen remodel in Tustin. Along with rarely used gadgets, store seasonal items such as Christmas baking dishes or barbecue utensils up on a high shelf.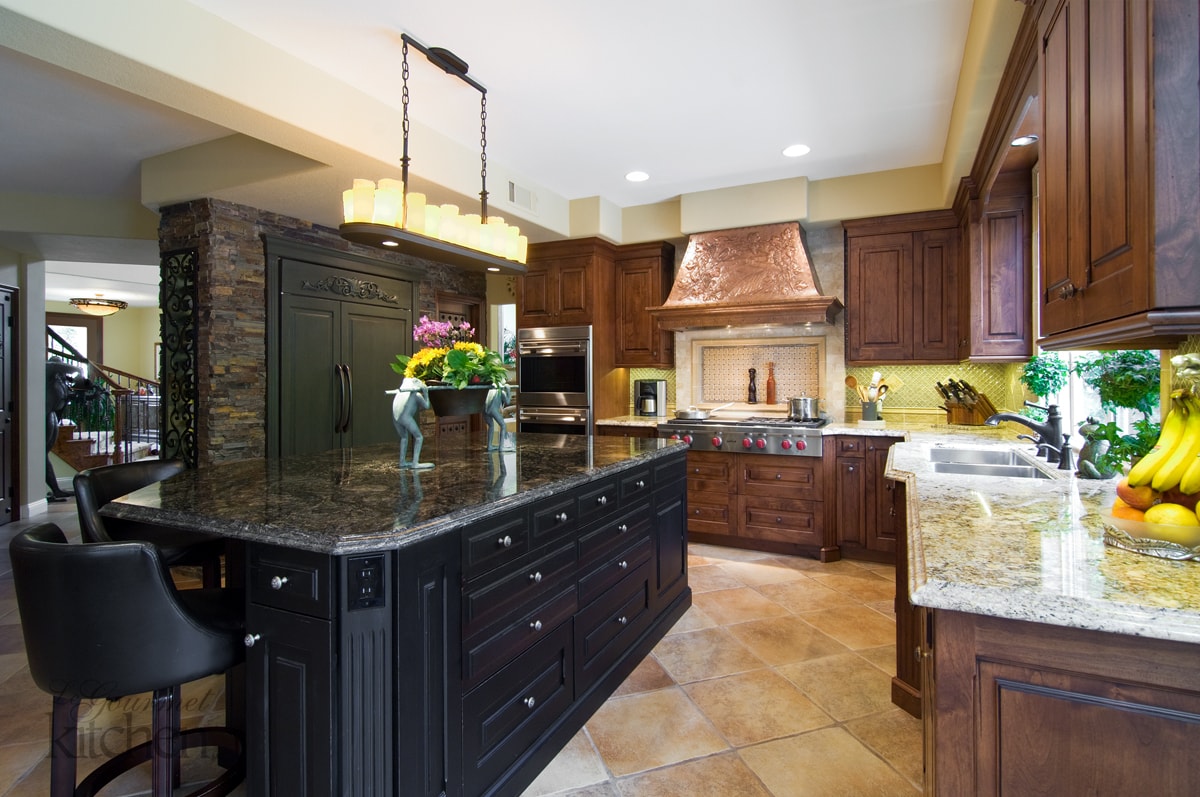 CONSOLIDATION
In a standalone pantry, keep frequently used items together in a cart or a basket so you can move them into the kitchen when you need them. For example, a baking cart or a basket of kids' snacks means you always have what you need in one place at your fingertips. Decide what makes sense for you and develop an organization system to meet your requirements. You could keep all canned goods together or decide to store baking supplies in one place with your daily meal prep supplies in another area.
LIGHT
Small spaces are naturally darker than large ones and this is excellent for food storage, but you need strong light when accessing what you need. In-cabinet lighting is the ideal solution and can easily be added as part of a kitchen remodel. In the meantime, look for battery operated lights as a temporary solution.
STYLE
Organization and style are not mutually exclusive, so remember that your well-organized pantry should still be integrated with your kitchen design style. Think about how to personalize your pantry, with touches like wallpaper or feature walls. A section of blackboard paint is handy for writing lists on a section of the wall. Bring the style of your kitchen design in to your choice of pantry containers, be it rustic or contemporary.
A well-stocked, neat pantry with customized storage makes a world of difference to your home. Look at our kitchen remodeling gallery for more design inspiration or call us today to talk to our kitchen design experts.